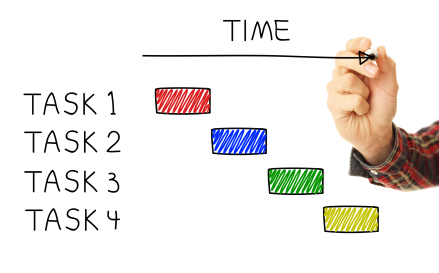 Execution
A well-defined and thoughtful strategic perspective is not enough to insure operational success. A good strategy must be combined with a sense of urgency and tactical execution.
Many companies claim to have a "strategic plan" ("this is our vision of where we want to go") or an "annual plan" (simply a budget), but the team's thinking on "how we are going to get there" is often neglected or woefully inadequate. Solid operational planning techniques can help create an environment focused on performance targets and accountability.
Effective operational plans have these deliverables:
What are the major initiatives for each functional area of the business?
What are the major tasks that need to be completed to meet these objectives?
How will the tasks get done (i.e. who is responsible – who owns them)?
What are the completion dates for each task?
What is the estimated financial impact of each task (e.g. revenue enhancement, gross margin improvement, expense reduction, spending increase, balance sheet change, etc.)?
COMMUNICATION: Once the operational plan is completed, it needs to be thoroughly communicated to the entire organization.
Progress needs to be tracked on a regular basis.
What We Offer
We work closely with CEOs and management teams to flush out and assemble the deliverables of the operational plan outlined above.  This is an iterative process since it involves:
sorting through and establishing priorities
understanding available resources and constraints
setting realistic but challenging metrics
holding people accountable
The end result is a clear, comprehensive, achievable, operational plan that is communicated throughout the company.
Contact us for more information on how we can help with Operational Planning.