We have completed an extensive number of engagements with middle market companies.
People have varying opinions and perspectives about the size definition of a "middle market company". The revenue size of our middle market clients has fallen within the $10-200 million range.
These companies have been owned by:
Families (private)
Founders and/or Management teams (private)
Private Equity Funds (private)
Large private/public corporations (divisions or subsidiaries)
Ownership Dynamics
Middle market companies often experience a challenging set of ownership dynamics that can impact the focus and outlook of the business.  These ownership (and ultimately exit) scenarios can be very, very different and can have a significant impact on strategy, long term planning, culture and even day-to-day decision making.
More discussion related to the private equity/vc funded companies and family-owned companies can be found on the next two pages.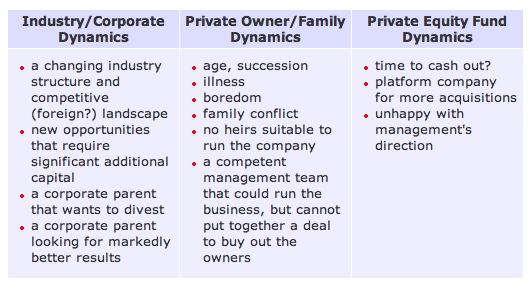 Net Worth
Net Worth is much more than just an accounting, balance sheet term. We have seen numerous examples where the owners of private businesses had followed one of two paths:
Most of the shareholders' hard-earned assets were tied up in the company; aside from salary and bonus, the majority of their net worth was private company stock.
The owners stripped out as much cash as they could from company operations without severely limiting its ability to function. However, necessary investments needed to grow and/or stay competitive were deferred and the overall value was negatively impacted.